Hinge Joint Fence
Details
Hinged joint fencing can stand 30 years for keeping sheep and goats, horses and dogs. Smooth edge protect sheep or goat from being injured by the field fence.
Made from heavy galvanized wire. Edge wire diameter is 2.40 mm, and horizontal and vertical wire diameter is 1.90 mm. Roll height can be from 60 cm up to 200 cm (as above picture shows). Roll length may be 50 m or 100 m.
Hinge joint sheep fencing features:
suitable for livestock fencing and farm crop protection.
Hinge joint knot made form tension curve wire.
Keeps the same shape after intense hitting by cattle.
Small bottom mesh spacing to keep small wild animals out.
Wide super mesh spacing to keep big wild animals away and livestock confined.
EnZar®
Fixed Knot Field Fence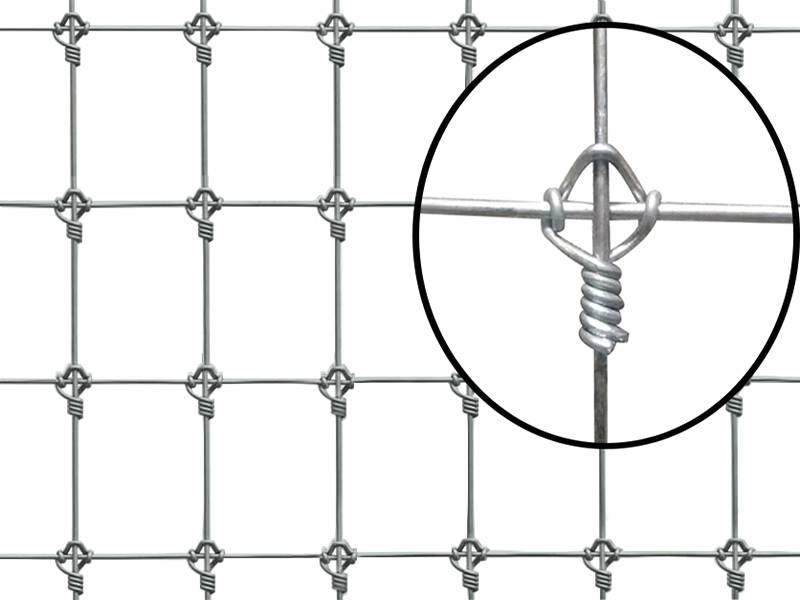 Fixed Knot Field Fence
Details
Fixed knot fencing for sheep and goat has firm structure, flat surface, uniform opening, good flexibility and long service life. It also is a good choice to protect your animals.
Made from high tensile heavily 8 gauge and 10 gauge galvanized wire (3.2 mm, 4.0 mm wire), fencing height is from 60 cm to 200 cm. Other sizes can be available according your request.
Fixed Knot sheep fencing features:
Smaller holes at the bottom and bigger holes higher up
Stop lambs getting through and big sheep from getting their heads trapped.
Extra strong top and bottom wires.
Corrosion resistant, weather resistant.
Easy to install on different kinds of surfaces and terrain.
Materials: quality steel wire.
Surface: electro or hot dipped galvanized.
Height: 0.6 to 2.0 m.
Types: hinge joint fence & fixed knot fence.
Simple in structure
Easy maintenance
Short installation period
Less weight
Easy for transport.